We are now approaching the Reunification palace or Independence Palace, Notre Dame Cathedral and Saigon Central Post Office. These 3 buildings contribute to the list of priceless architecture of Saigon.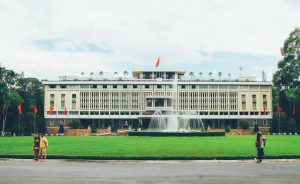 The contruction of the Reunification or Independence Palace was began by French authorities in February 23rd, 1868. The first founding stone was holed to put in gold, silver and copper coins, engraved with the portrait of Napoleon the Third. Main building materials were brought directly from France. The entire building is positioned in a then 12-hectare land with surrounding forest in the heart of the city.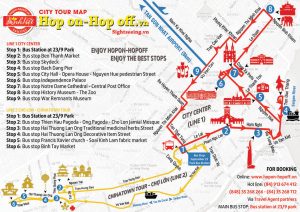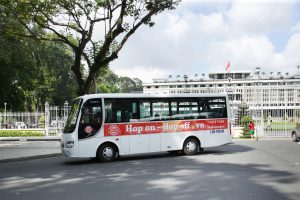 The building went through many name changes: Norodom Palace (1871), IndoChina Governor's Palace (1945), Reunification Palace (1956), Dragon Head Palace, Reunification Palace (1976), and lastly Independence Palace.
In 1963, Reunification or Independence Palace palace was re-constructed into the shape of a "Wang" (king) letter in Chinese. The Palace's front was decorated with stylized bamboo screens, mimicking Vietnamese house's room screens and details of ancient pagodas in Vietnam. The in-charge architect back then was Mr. Ngô Viết Thụ – the first and only Vietnamese person to win Roman laureate.
At 10.45 am on April 30th, 1975, the tanks 843 and 390 of the Vietnam People's Army crashed the main gate and headed inside the Palace's ground. At 11.30 am, the flag of the National Liberation Front of South Vietnam was raised at the top of the Palace, marking the end of the 20-year Vietnam War.