Walking through the streets of Ho Chi Minh City, you'll smell all sorts of wondrous things (and, to be fair, some not so wondrous things) and it's our hope that by reading through this food guide, you'll be inspired to seek out those great smells and experience some of the real Saigon food scene. Today, we would like to share with you about the Saigon Street Foods on series of things to do in Saigon.
With all that being said, are you ready to start eating?
Bánh mì (banh mi)
Banh mi is one of the saigon street foods that people commonly associate with Vietnam and is a delicious snack that shows how fusion food, when done right, can be brilliant.
Walking around Saigon you'll see dozens of carts with signs selling banh mi – it's actually hard to go more than a block without seeing one – so it's never hard to find.
There are many different varieties of banh mi, and here's a good resource for seeing the different types, but the basic sandwich starts with a crusty baguette that's sliced in half (sometimes using a scissors) and stuffed with layers of pork, luncheon meats, shredded cured pork skin, pate, mayonnaise, Vietnamese radish and carrot pickles, a handful of sliced cucumbers, sprigs of coriander (cilantro), and last but not least, an optional, yet in my opinion necessary, scoop of fresh pounded chilies.
For the freshest bread, eat banh mi in the morning or early evening.
So where to eat great Banh Mi?
We would like to brief you a couple of place like:
Bánh Mì Huỳnh Hoa (Banh Mi Huynh Hoa)
Address: 26 Lê Thị Riêng, Ben Thanh, District 1, Ho Chi Minh City, Vietnam
Open hours: About 3:30 pm – midnight daily
Price: 30,000 VND ($1.40), more expensive than others, but worth it for the amount of meat
Bánh Mì Hồng Hoa
Address: 62 Nguyễn Văn Tráng, District 1, Ho Chi Minh City, Vietnam
Open hours: I think open in the morning, I arrived at 8 am, and they seemed to be at their peak serving, so good place for breakfast
Price: 17,000 VND ($0.80)
Banh Mi 37 Nguyen Trai
Address: 37 Nguyễn Trãi, Ho Chi Minh City (though the address is 37, it's right at Hem 39)
Open hours: From around 4:30 pm – 7:30 pm each day
Price: 16,000 VND ($0.75)
Phở (pho)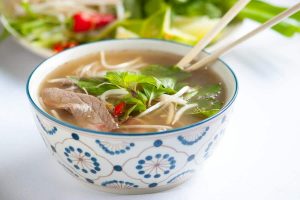 No matter if you've been to Vietnam before or not, you've likely heard of pho, if not already eaten it many times before.
Pho is a noodle soup consisting of broth, flat rice noodles, herbs and meat (usually beef or chicken). The quality and style of pho varies quite a bit between vendors. I chose to get the Pho with beef brisket.
Pho So 1 Ha Noi
Address: 25 Nguyễn Thị Minh Khai, Saigon, Vietnam
Open hours: All day and night – they are open 24 hours
Prices: 28,000 VND ($1.29) for a bowl
Phở Phượng 25
Address: 25 Hoàng Sa, District 1, Ho Chi Minh City, Vietnam (it's located very close to the famous Lunch Lady of Saigon)
Open hours: 6 am – 9 pm daily – great for any meal
Prices: 40,000 VND ($1.85) for my bowl
Saigon coffee sua da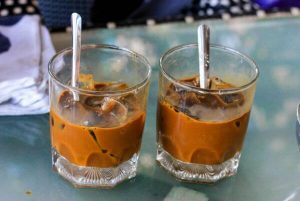 VIETNAM IS THE 2ND LARGEST PRODUCER OF COFFEE IN THE WORLD. SURPRISINGLY, DOMESTIC CONSUMPTION EATS UP ONLY 8% OF THE BEANS PRODUCED HERE. UNLIKE IN NORTH AMERICA, THE VIETNAMESE RARELY GRAB COFFEE TO GO. WHEN THEY DO CAFFEINATE, THEY TEND TAKE A BREAK FROM THE HEAT AND RELAX IN ONE OF THE COUNTRY'S UBIQUITOUS CAFES DOTTED THROUGHOUT THE CITY.
Busy, modern Saigon (Ho Chi Minh City) is a city I love to visit. Saigon has maintained its strong cafe culture even amidst its growing responsibilities as Vietnam's economic center
Vy coffee: Best coffee to be found in Saigon
A good cafe that isn't a chain store, serving a range of coffees with varying intensities, which. Enjoyed the iced coffee with the medium intensity beans, which was quite smooth and reasonably rich in flavor. Quite popular with locals and tourists alike.
ADD: 277A Lê Thánh Tôn, district 1 (Lê Anh Xuân) Ho Chi Minh City
Hop on a bus or bike and enjoy Saigon street foods in the best condition! A truly unique experience that will make you discover Vietnam as a local.