Description
Our combo tour tickets will ensure you get the most of your trip to Southern of Vietnam by going through various attractions in modern and ancient HoChiMinh City and experience the network of CuChi Tunnels.
Hop On-Hop Off is a great way to see HoChiMinh City. It brings you to the city's most interesting sites. You can start your journey from any Hop On-Hop Off bus stop, or at the starting any bus stop.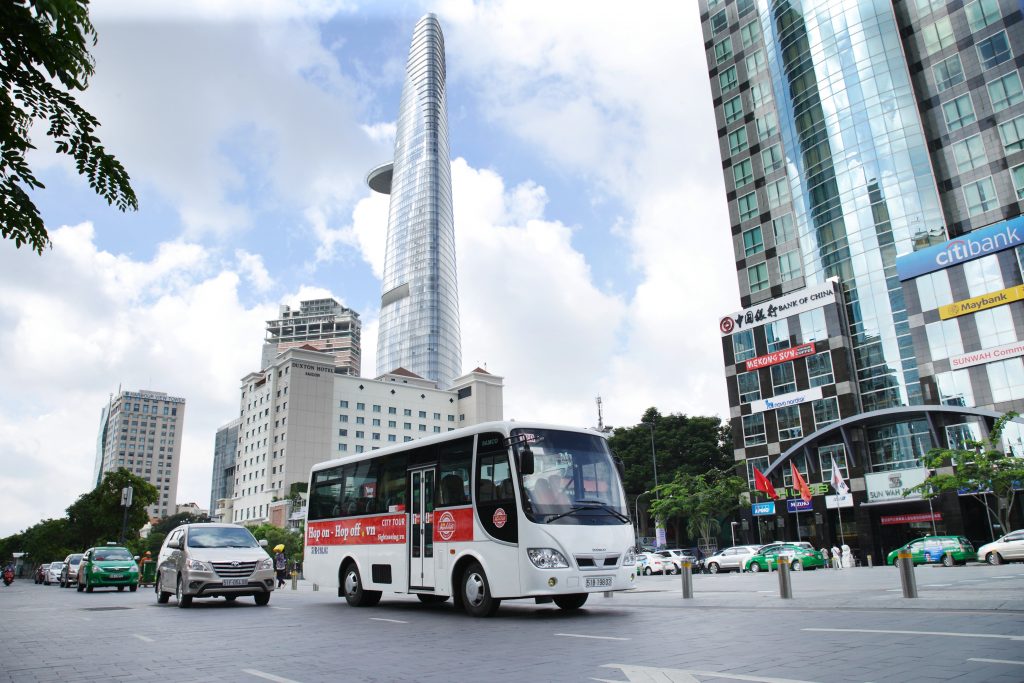 CuChi Tunnels used to be a bitter battleground for many years during the Vietnamese War. Visitors to our country cannot miss a visit to this "underground village" with the intricate network of over 200-km tunnels, which is lying 75km from HoChiMinh City. It may be incredible if you don't experience a short, exciting trip through this labyrinth of interlaced tunnels.
Meeting point
Hop On Hop Off: Main Bus Station at 23/9 Park or No.187 Pham Ngu Lao st. & 9 bus stop

CuChi Tunnels – Meeting point: 22 Bui Vien St., District 1, HCMC

Departure time

HoChiMinh City Bus Tour: 8:30 – 17:30. Our bus start every 30 mins
CuChi Tunnels Tour: 7:30 – 14:00 or 12:30 – 18h30

Duration time
3 days
Break time
Break time from 12:30 to 12:59
Inclusions

Hop On-Hop Off e-ticket valid for 48 hours, 08 languages GPS Audio Guide, City Map, travel insurance.
CuChi Tunnels tour: entrance fee tunnels, mineral water, traditional finger foods of soliders
Tax
Tour guide support help desk
Live English tour guide CuChi Tunnels tours
One-way pick-up hotel at the streets in Dist. 1. See street at "Know Before You Go".

Exclusions

(optional)

Hotel accommodation and drop-off
Entrance fee to the attractions, food & drink (HoChiMinh City Tour)
Travel insurance, tip
---
Know before you book
Enjoy a unique Indochina experiences combining of ANHVIET HOP ON – HOP OFF VIETNAM most respected and reliable tours included:
Duration: 3 days
–      Day 1 + Day 2: 1 ticket HoChiMinh City Bus Tour (valid for 48 hours) – Full day (8:30 – 17:30)
–      Day 3: Cu Chi Tunnels Tour. Half-day (7:30 – 14:00 or 12:30 – 18:30)
Booking CuChi Tunnels before 3 days departure. Please email us your hotel details to confirm one-way pick-up for Day 3.
---
Know before you go
DEPARTURE: 
Hop On- Hop Off Bus: Starting bus stop at 23/9 Park or No.187 Pham Ngu Lao st. ("Backpackers zone"), with 10 stops around city. We bring you to Ben Thanh market (national bus stop No.120 on 129-133 Ham Nghi st.), observe the City's panorama from the Skydeck at Bitexco Financial Tower -> Bach Dang . To Saigon river -> City Hall, Opera House -> Nguyen Hue Perdestrian -> Indepentdence Palace (Reunification Palace) -> Notre Dame Cathedral – Saigon Central Post Office -> the Zoo, the History Museum -> the War Remnants Museum.
You can explore the city's "foreigner areas", such as Dong Khoi, Nguyen Hue and the shop at Ben Thanh Market.
For CuChi Tunnels: Please go to our meeting point at 22 Bui Vien St., District 1, HCMC, and please present at 15 – 20 minutes before departure time.
PLEASE NOTE: Customers can redeem their tickets/vouchers at the following location:
Mobile e-ticket: any bus stop
Paper vouchers: any bus stop
---
Redemption & Cancellation policy
Upon arrival at the redemption location, please present your printed voucher and photo ID or e-ticket in exchange for your activity.
Refund 100% money back before cancellation 72 hours, non-refund after 24h departure time.
Travel Guide
---
Support Center
ANH VIET HOP ON- HOP OFF VIETNAM
Head-Office: 210 Dien Bien Phu st., Ward. 7, Dist. 3, HCMC, VietNam
MEETING POINT : HOCHIMINH CITY HOP ON – HOP OFF  BUS STOP
MEETING POINT :CUCHI TUNNELS